Scapa Flow with Scuba.ie
We went to Scapa Flow 10th - 16th June 2006.
This page will give some info on the trip.
Just back this morning, and thought I'd write this while its still pretty fresh in my head. The travel to Scapa from Dublin is a bit awkward, but not something I would let stop me from getting to this fantastic location. We drove to Belfast and got the ferry to Stranraer and then met up with some more of our divers and drove through the day to Scrabster via Glasgow and Inverness. We broke the driving up into 3 sections, with a one hour break each stop, so it made it a lot more manageable. Then we got the ferry to Stromness in the Orkneys, which added another hour and a half. We arrived on Saturday at 20:30, got our dive kit on board the M.V. Sharon Rose and checked into our self-catering apartment. We started diving on the Sunday through to the Friday. Here's a brief breakdown of the dives:
Sunday:
Koln - 35m
Karlsrure - 25m

Monday:
Markgraf (battle cruiser) - 45m
F2 - 18m
Tuesday:
Konig (battle cruiser) - 41m
Dresden - 33m
Wednesday:
Kronprince Wilhelm (battle cruiser) - 36m
Brummer - 35m
Thursday:
James Barrie (Icelandic fishing trawler 40m long) - 43m (tidal)
"Bottle dive" - 19m (scenic, lots of debris from WW1 ships like plates, bottles etc)
Friday:
Dresden (so good we dived it twice) - 33m
Karlsrure - 25m (were hoping to do the Tarbaka, but there were a few boats on it)
On all dives below 30m we included deep stops, and some of us (myself included) were using 50% nitrox to help offgas from 20m and above for deco. We did a lot of penetration dives, but as the wrecks are nearing 90 years old they are getting fragile, and are liable to collapse, so great care has to be taken. The most memorable were the James Barrie, (a 2-3 knot current at 43m isn't funny) partly as it looked very like the trawler from "Perfect Storm", and the 3 battle cruisers (all inverted). The Dresden was great, as it is quite shallow and reasonably open, so we could penetrate the wreck for most of its length. We had 15-25m viz all week, and mostly flat calm conditions. One day it got up to force 8, but as the Flow is very sheltered, we could still dive. Water temp 10-11 degrees, chilly, but managable. We were asked at the start of the week to take part in DAN's Project Dive Exploration, which we did. Essentially they ask you what cert you are, your equipment and gas usage and dive profiles. Then they download your profiles from your Suunto (or they can loan you one for the week if you don't use one). This all goes to help DAN understand diver's habits and profiles to make diving safer. We even got a tour of the local recompression chamber, soon to be upgraded. All in all it was a fantastic week's diving, which exceeded our expectations. The local dive shop even managed to replace a dry suit zip for one of our lads overnight, so none of the dives were missed! We have all said that we will try to get back next year, time permitting.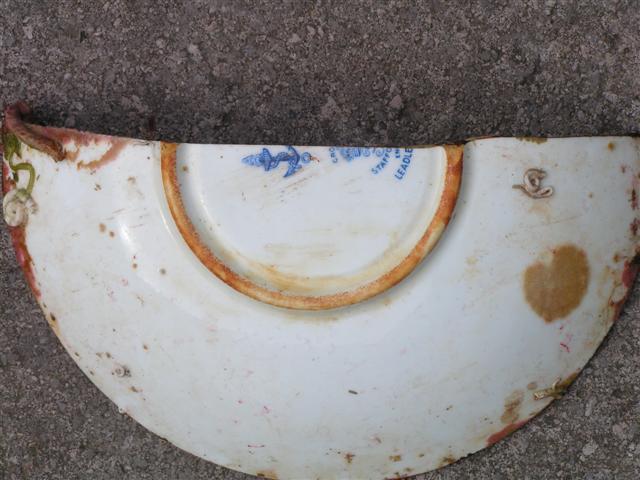 This is a photo of a plate I found on the "Bottle Dive", not on a wreck, so it is ok to remove it. The British Admiralty mark can be seen in the centre, dating it to around WWI. Its illegal to take anything from wrecks in Scottish waters, as they are protected by Scottish Heritage and the Reciever of Wreck. While we were there, two divers on another boat (not to be named) were warned not to take anything, as they had been seen diving with a hammer and chisel...After the warning they were spotted coming back with pieces of the wreck, and the skipper radioed ahead to report them. The police were at the pier when they got back and they were arrested. Scottish Heritage were very pi**ed off when two divers were released last year without charge, so it looks like these two will be made an example of! Probably get a fine and/or a sentence. Their complete dive gear can be confiscated too.....
Email us (address has changed)
Last updated: 25th June 2006